Library Student Employees Alex Blackwell and Hunter Ringley competed and won the 2022 AppHack April 7 and 8, 2022. AppHack is a 24-hour student-run hackathon hosted at Appalachian State University. At AppHack, teams of students get involved in the software development process including design, development, and marketing disciplines.
Alex and Hunter both work for Technology Services and created a program a laptop checkout cart.
In the photo please find their invention. The big monitor to the left shows red when the laptop cart is locked. You swipe your Appcard, the program checks to see if you already have a laptop, if there is one available, and then turns the screen green and unlocks the cabinet (the cardboard covered selection on the bottom) so you can select a laptop. Once the laptop is disconnected from its cable, the program knows which one it is and checks it out to the patron.
Scott Rice, Coordinator of Technology Services said, "It's an incredible piece of work, especially when you know that a laptop checkout cart costs oh, at least $25 - $35K to check out just 12 laptops." If you have a chance, swing by the Tech Room, try out their creation and congratulate them! They won the hackathon!
On a side note, in 2019, DSI sponsored the AppHack X hackathon with the StackHack "Improving Library Services" award. There were 2 winning teams selected for this category (see below). Although not widely publicized at the time, this continues the tradition of celebrating awesome students at Appalachian building library technology.
"Improving Library Services" Winning Teams:
EduStream
○ Created by Daniel Jeffries and Eric Russo
○ EduStream is a virtual platform that simulates a live classroom with streamable whiteboard and write/draw/chat feature
Leaked
○ Created by Cameron Himes and Kevin Kamto
○ Leaked is a humidity sensor that detects water leaks in dwelling spaces.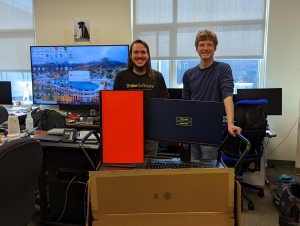 Tags: