On July 18th, the 2022 Carol Grotnes Belk Distinguished Lecture series hosted New York Times Best-Selling author and North Carolina native, Wiley Cash. Mr. Cash presented to 100 guests from campus and the community in the Rosen Concert Hall on the AppState campus. He spoke about his love for libraries, reading, and North Carolina.
He discussed his writing journey, the many authors that continue to influence his writing, and the strong bond he has with the culture and geography of North Carolina. The gift of his story telling gave the audience a glimpse of his history, his family life, and a large helping of his sense of humor. He took questions from the audience and shared thought provoking answers to a large group of very attentive, avid readers.
Prior to the lecture, Mr. Cash joined the Library Advisory Board members at the newly refurbished Appalachian Theatre of the High Country in downtown Boone for a luncheon. He interacted with guests and signed his most recent novel, "When Ghosts Come Home" for all attendees. The University Bookstore sold Wiley Cash books which he was kind enough to sign while talking and meeting some of his audience members.
Wiley Cash is the author of four novels; "When Ghosts Come Home", "A Land More Kind than Home", "The Last Ballad", and "This Dark Road to Mercy". He also hosts a monthly guided experience in creativity called "This is Working".
Wiley Cash was born in Fayetteville, North Carolina and raised in Gastonia. He graduated from UNC Asheville, where he now teaches fiction writing and literature. He holds a Ph.D. in American Literature from UL Lafayette, an M.A. in English from UNC Greensboro, and a B.A in Literature from UNC Asheville. He currently resides in Wilmington North Carolina with his wife and two daughters.
University Libraries would like to extend a special thank you to the co-sponsors of this event; The Watauga County Public Library, Boone 150, the Richard T. Barker Friends of the University Libraries and Gideon Ridge Inn.
- by Kelly Burkett, Executive Assistant to the Dean; University Libraries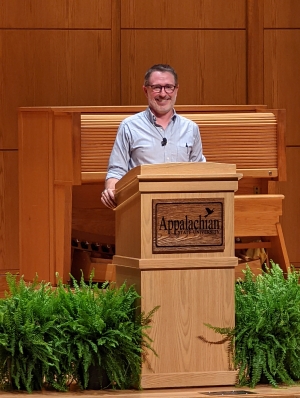 Tags: