Collection Management Coordinator, Dr. Alex McAllister has been awarded the 2021 Alice P. Naylor Outstanding Dissertation award.
The Alice P. Naylor Award, named for Professor Emerita Dr. Alice Naylor, is given out annually by a faculty committee to one doctoral student at Appalachian State with the best dissertation.
Alex will be recognized for his amazing achievements during the Reich College of Education Doctoral Symposium from 1:00-1:30 on Friday, November 5 and will be presenting on his work directly after the awards ceremony.
Let's celebrate Alex and the great work he is doing!!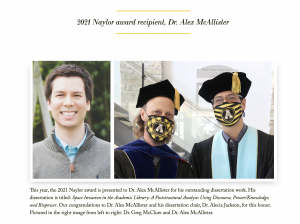 Tags: