Thursday, September 15
Lecture and Book Signing: 6-7:15 pm
Belk Library & Information Commons Room 114
Dr. Luke Manget is an instructor of American Studies and Humanities at the North Carolina School of Science and Mathematics in Morganton, North Carolina. Previously, he was an assistant professor of history at Dalton State College in Dalton, Georgia. He studies 19th-century American history, specifically, southern environmental and rural history and Appalachian History. He is a contributor to Southern Communities: Identity, Conflict, and Memory in the Nineteenth-Century American South, edited by Steven E. Nash and Bruce E. Stewart.
Dr. Manget will speak about his new book, Ginseng Diggers: A History of Root and Herb Gathering in Appalachia, the first book to unearth the unique relationship between Appalachia and the global trade of medicinal plants. Additionally, his research is an extensive addition to our understanding of land use and gathering commons, medicine and capitalism, and the beginnings of the pharmaceutical industry.
The harvesting of wild American ginseng, the gnarled, aromatic herb known for its therapeutic and healing properties, has played an especially vital role in the southern and central Appalachian Mountains.
Traded through a trans-Pacific network that connected the region to East Asian markets, ginseng was one of several medicinal Appalachian plants that entered international webs of exchange. As the production of patent medicines and botanical pharmaceutical products escalated in the mid-to-late-nineteenth century, southern Appalachia emerged as the United States' most prolific supplier of many species of medicinal plants. The region achieved this distinction because of its biodiversity and the persistence of certain common rights that guaranteed widespread access to the forested mountainsides, regardless of who owned the land.
Following the Civil War, root digging and herb gathering became one of the most important ways landless families and small farmers earned income from the forest commons. This boom influenced class relations, gender roles, forest use, and outside perceptions of Appalachia and began a widespread renegotiation of common rights that eventually curtailed access to ginseng and other plants.
Ginseng Diggers is the result of 10 years of research, including one of the most extensive uses of country store records to date in Appalachia, examining the account books and day books of some 34 different establishments located in 13 different repositories, including the Appalachian State University's Special Collections Research Center. His research also includes insight into the origin of the locally-founded Mast General Store.
Dr. Manget comes from a family of root diggers and herb gatherers. His grandmother and siblings relayed countless stories of their days digging herbs in eastern Kentucky. Learn more about Dr. Manget and his work at theesouthernhighlander.org.
Attendees will be able to purchase Ginseng Diggers at the event.

Praise for Ginseng Diggers
"A fascinating glimpse at the evolution of ginseng culture in Appalachia and its
connection to the national economy and society."—Ronald D. Eller, Uneven Ground: Appalachia Since 1945
"Totally revises how we look at important historical issues and provides crucial new insights into Appalachian subsistence practices."—Daniel S. Pierce, Tar Heel Lightnin'
"A tour de force in the still-emerging field of US commons history and a vital contribution to the histories of medicine and capitalism, environmental history, and Appalachian studies."—Kathryn Newfont, Blue Ridge Commons
"A fresh environmental context for considering issues crucial to Appalachian history."—Timothy Silver, Mount Mitchell and the Black Mountains

Co-sponsored by the University Libraries and the Center for Appalachian Studies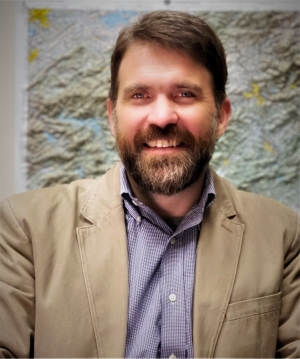 Tags: