On September 6, several library personnel participated in the Historical Research Exhibition associated with Founders Day. The posters feature university or local history-related projects from Faculty, Staff and Students.
Margaret Gregor and Jackie Eagleson, Instructional Materials Center, participated in a poster presentation on Beulah Campbell, who taught at App between 1957 and 1981, and her collection of Children's Book art that is housed in the Special Collections Research Center. Their session highlighted her teaching, her vision in collecting this art, and the impact she had on students and teachers.
In addition, Pam Mitchem, Digital Initiatives and Scholarship, created a digital poster presentation on Emma Horton Moore, who was the first professional Librarian at Appalachian State University. The Special Collections Research Center staff had a display of historical materials at the event.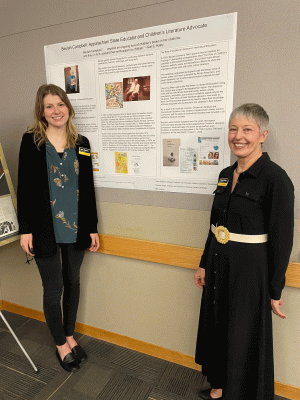 Tags: