Mia Verdugo, Learning and Research Services Student Assistant with University Libraries was awarded honorable mention in the University's Student Employee of the Year (SEOTY) recognition. Mia was nominated by her supervisors, David Travis and Sharon Taylor.
Unlike in years past, Honorable Mention award winners will receive a partial scholarship amount that will be applied to their 22-23 Fall/Spring financial aid package.
"Mia has such a positive work ethic! She goes beyond expectations. She is always willing to fill in for fellow workers and has cross training in multiple areas of the Belk Library and Information Commons. We are grateful to have her as one of our many amazing and bright student workers."
~ Sharon Taylor, Materials Retrieval and Access Supervisor
Congratulations Mia and thank you for your dedication and hard work to the University Libraries.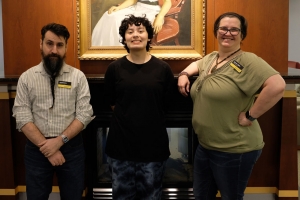 Tags: