The University Libraries Advisory Board met on Friday, April 8 in the Broyhill Conference room in Belk Library. Board Members present included: Chair, Mary Helen Ridenhour, Betsy Alden, Bettie Bond, Kay Borkowski, Kelly Deese, Bobbie Ellis, Barbara Freiman, Bo Henderson, Martha Marking, Sabine Miller, Colleen Minton, Nanci Tolbert Nance. Present during the hybrid meeting on zoom Jimmeka Anderson, Betsy Brown, Dwayne Elliott, Greg Hamlyn, Martha Marking and MaryCraven Poteat
After the meeting, the board then attended the Library Student Employee scholarship Luncheon in the Plemmons Student Union. Due to generous support from Library donors, 24 students received $1500 scholarships. Scholarship recipients are:
Shabrina McPhereson, Denise Renteria-Velaquez, Anna Palmer, Kyndavee Bichara, Xanayra Marin-Lopez, Casey Kruger, Margaret Ann Nichols, Ann-Marie Billings Mignone, Matthew Mork, Emma Poovey, Laura Brady, Aaron Lubkemann, Ansley Puckett, Jessica Sorenson, Sarah Kruger, Shannon Pendleton, Jacob P. Williams, Nikki Leigh Parker, Alex Blackwell, Bailey Williamson, Felicity Kapel, Isaac Pugh, Jack McKeon, and Alvin Carlisle
The Emma Horton Moore Scholar, Shabrina McPherson delivered the student response and Chairperson Mary Helen Ridenhour delivered the donor response.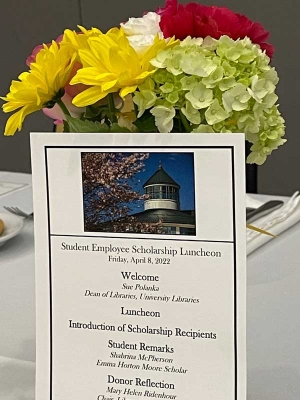 Tags: