The University Libraries hosted our annual Student Employee Holiday Card Contest for 2023. This year we asked our contestants to use an images from our Digital Photographs collection in Special Collections to create the front of the card. We asked our contestants to feel free to use color, wording, icons, etc. We wanted them to be creative and have fun!
Our 2023 Student Employee Holiday Card Contest winner is Julia Boyce.
Julia's design, a colorized image shows the eastern (front) entrance to D. D. Dougherty Library, built 1935, and the stairway in front of it after a snowfall at Appalachian State Teachers College (1929-1967) on January 10, 1959. Two people can be seen walking along the snow-covered sidewalk in front of the building. The building served as the campus library for Appalachian State from 1935 until 1969 when the first Belk Library opened. The image is from the Special Collections Research Center Digital Collection, the Pritchett Collection - Snow Scenes, January 10, 1959.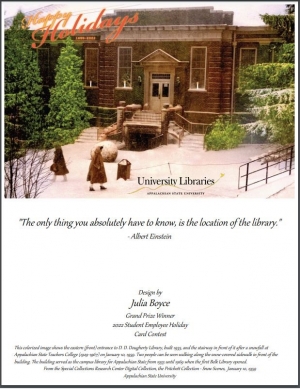 Tags: