Exciting news! App State Libraries is now providing full access to the New York Times, which can be viewed on your browser or mobile phone app!
Please see below for more information on signing up. Your account will be good for 4 years. All of the NYT resources can be used in instruction, and please note that versions in Spanish and Mandarin are available! Also, lesson plans and learning resources on a variety of disciplines and issues are available through NYT InEducation and The Learning Network.
To Access Walkthrough Video. please click on the link.
The NYTimes.com subscription offers more than just unlimited news access, please see a below is a brief recap:
Archives (9/18/1851 through 12/31/2002) ( 5 PDF article downloads from Times Machine per day per user)
Augmented Reality/Virtual Reality - found in the Mobile App; NYTstories told through enhanced technology
Podcasts (including The "Daily" podcast)
All Multimedia, including video, photography, VR features, and new multimedia to come.
Newsletters : Over 80 newsletters such as Well, Climate Forward, In Her Words, and more.
Live Events - conversations with inspiring personalities like Tony Blair on How Russia's War Will Change the World: A Virtual Event. Lin-Manuel Miranda and Shakespeare in the Park: A Times Summer Event, Teaching 1619 Project: a virtual event for Educators and Librarians and Championing The Truth: a conversation between journalist and librarians on fighting misinformation, remaining balanced, and supporting communities. These are just a few of the great subscriber only events that faculty and students are enjoying through the resource.
Up-to-date technology to make NYTimes.com Accessible with features such as closed caption and screen reader interface.
In addition, please take a look at our Internship and Fellowship programs, Including the new NYT Corps program focused on underrepresented student journalist development.
Spanish and Mandarin Chinese translated versions of NYTimes.com.
Unlimited Access to two great learning tools: The New York Times inEducation website and The Learning Network. ( nytimesineducation.com and nytimes.com/learning ).
The InEducation and Learning Network Guidebook (attached below) includes key details and features of the two great learning tools: The New York Times inEducation website and The Learning Network. (nytimesineducation.com and nytimes.com/learning ). The sites provide:
Over 1,000 resources published each year to ensure materials are relevant and up to date
Lesson plans
News and geography quizzes
Student opinion questions
Picture prompts and graph prompts
Current events conversations
Writing curriculum
Contests
Professional development webinars
Users Access Information:
Once registered, faculty/staff have 4 years of full account access, after which they must re-authenticate by visiting accessnyt.com. Students have access until 12/31 of the graduation year they choose.
~ Please note: If you are already a paid digital subscriber to the NYT, you cannot sign up for the academic pass version. You will get an "access unavailable" message when you try to sign up.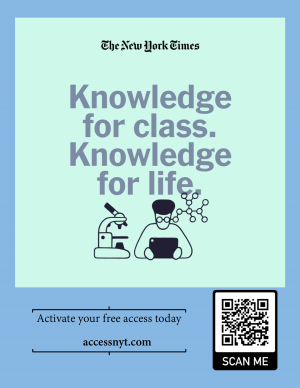 Tags: