For the 26th annual Appalachian State University GuitarFest, an international guitar competition and concert series, the Erneston Music Library will feature an exhibit from the Matanya Ophee ["Ophee rhymes with coffee"] Collection. The Ophee Collection is one of the largest collections of 19th-century printed music for the classical guitar in the world. The exhibit will take place from 2 p.m. to 4:30 pm on Friday, March 31st and is open to the public. All events will take place in the Broyhill Music Building."
This year, Appalachian GuitarFest 2023 is combined with the 2023 Boone Suzuki Workshop to give you one amazing weekend of guitar, all in one place! There will be a competition, concerts, guest artist masterclasses,and an exhibit from the Libraries' Ophee collection on Friday afternoon at the Music Library.
Friday night is a concert including Dr. Adam Kossler, our new classical guitar instructor at 7:30 in Rosen. Saturday night will feature a top level classical guitarists. GuitarFest concerts are free to faculty, staff and students. Dr. Gary Boye will perform with in the Appalachian State Alumni Ensemble on Sunday at noon, right before the final rounds of the main competition (with 4 final contestants from around the world).
Come join us!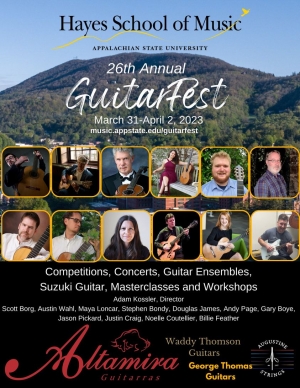 Tags: