The library cosponsored a very successful event with the Muslim Student Association (MSA) in the Library on Thursday, April 29. The event was very well attended with 200+ people participating, including faculty, staff, and community members.
The Vice President of the MSA, said, "I just wanted to thank you all again for making tonight possible. I am so so happy with the outcome and it wouldn't have been possible without your support. I appreciate all the time and effort you all put in tonight, especially with staying as late as you did. I never would have thought an event like this could garner so much support at ASU. Thank you for being a part of it!"
A special thank you to the Library's own, Hannah and Mollie for all their hard work to make this happen!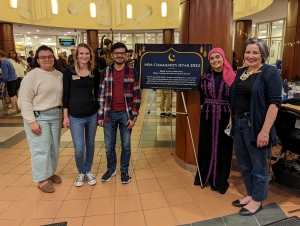 Tags: