Author, Army Veteran, and Academic Librarian from Texas A&M University, Sarah LeMire will present a lecture on the support required by university students, faculty, and staff to provide a military inclusive campus for student veterans and the military affiliated. The presentation will take place at 7pm on Thursday, April 21, 2022 in Room 114 in Belk Library.
Sarah LeMire is the Coordinator of First-Year Programs at the Texas A&M University Libraries, where she is the Libraries' student veterans liaison. An Army veteran, she frequently writes and researches issues related to libraries and veterans. She is the coauthor of Serving Those Who Served: Librarian's Guide to Working with Veteran and Military Communities and the principal investigator on the Institute of Museum and Library Services-funded Libraries and Veterans National Forum project.
After the presentation, a panel of App State Student Veterans will provide local perspectives.
The event is sponsored by a Bivens Grant from Appalachian State University Libraries and the Military Affairs Committee, and in collaboration with Student Veteran Services and the Student Veterans.
Also
Attached is the Zoom meeting invitation, and here's the meeting info:
https://appstate.zoom.us/j/97788349400?pwd=ZWJCQTlGck00VTlLWExobXU0NVpadz09
Meeting ID: 977 8834 9400
Passcode: 984702
For more information please contact Emma Sobczak Schell at sobczakschellee@appstate.edu.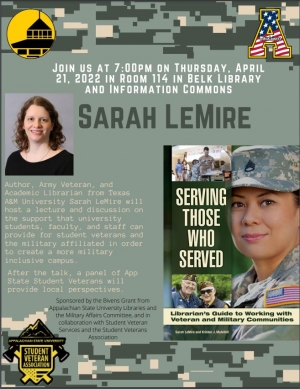 Tags: