The University Libraries at Appalachian State University are pleased to host a student art contest.
The theme of the contest is Journey of the Mind: Exploring the University Experience. This art contest is for you and about you, the Appalachian State University student. We invite you to create art that reflects your past, current, and future experiences; both on campus and off. What would you like to see on the walls of your library? We invite you to show us.
The first place contest winner will recieve a prize of $500, second place will receive $400, and three honorable mention winners will receive $200 each.
The contest will take place in the University Libraries with all entries to be received between October 1st and December 6th, 2023. All current App State full and part-time students, both Hickory and Main Campus as well as online, are invited to participate. Art will be judged by a committee of App State faculty, staff, and students during the Spring 2024 semester. Winners will be announced at a March First Friday event held in Belk Library and Information Commons.
More information including how to submit your piece can be found on the art contest webpage.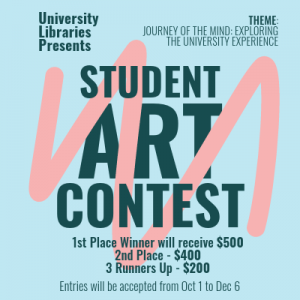 Tags: