Appalachian State University Libraries Art Contest
Student Art Contest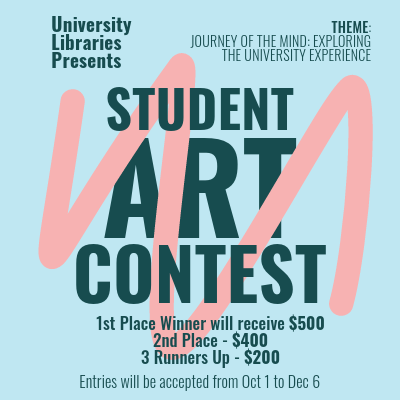 The University Libraries at Appalachian State University are pleased to host a student art contest.
Theme
Journey of the Mind: Exploring the University Experience
This art contest is for you and about you, the Appalachian State University student. We invite you to create art that reflects your past, current, and future experiences; both on campus and off. What would you like to see on the walls of your library? We invite you to show us.
Contest Winners
1st Place - $500
2nd Place - $400
3 Honorable Mention - $200 each
Submission Timeline
The contest will take place in the University Libraries with all entries to be received between October 1st and December 6th, 2023. All current App State full and part-time students, both Hickory and Main Campus as well as online, are invited to participate. Art will be judged by a committee of App State faculty, staff, and students during the Spring 2024 semester. Winners will be announced at a March First Friday event held in Belk Library and Information Commons.
Criteria
Any media will be considered, excluding art which requires additional technology to view the work (for example, work that requires a separate television or projector). The minimum and maximum dimensions of the piece and specifications are as follows:
Wall piece – 8" x 10" minimum dimensions, and 4' x 6' maximum dimensions
3D pieces – 1' x 1' x 1' minimum dimensions and 5' x 5' x 10' maximum dimensions
As long as the art piece fits within the stated dimensions, it can have more than one part, ie. multiple canvases, photos, etc.
Submission can be artwork that is already created or a piece you have specifically designed for the competition
Maximum of one submission per student
All work must be fully assembled, completely dry, and ready to display in a highly trafficked public setting. Framed work and wall-hanging, three dimensional pieces must be wired securely. All other three-dimensional works must be self-supporting. Artwork should be practical for a public space that is open 24/7. Please avoid submitting items that are too fragile, sharp, or small to be safe in such an environment, or be prepared to provide an appropriate enclosure. Use of AI generated images or other duplication of work will lead to disqualification. All work must be original.
Creating Your Art
Artists can use any medium they have access to. Additionally, supplies such as paints, glue, art markers, 3D printers, laser cutters and more will be available in the Makerspace for use for the contest, although limits for certain materials do apply. Feel free to work on your contest entry in that space on the Lower Level of the Belk Library and Information Commons.
Submitting Your Art
Entries are to be dropped off at the Makerspace. Online students have the option to photograph their work and can contact group-libart@appstate.edu for more information. The open window for physical submissions will be between October 1st and December 6th, 2023 and should be received in the Makerspace. Artist names should be attached to the piece via a sticky note or other easily removed paper. Artists also need to fill out the entry form located at the bottom of this page where they will include their artist statement, bio and other pertinent information.
The University Libraries will assume permanent ownership of the 5 winning artwork(s). The artwork will remain on display as determined by the Libraries' administration. Should a piece not be retrieved upon the end of the Spring 2024 term, the art piece will be forfeited to the Library after an additional 30-day grace period.
Required Information
Artist name (Artist's name and bio will be withheld from review committee to ensure equity among applicants)
Contact information - email, phone number
Size of piece
Artist Statement (maximum 150 words)
Each work must include a few sentences on how or why their work fits within the theme of the show.
Name of proposed artwork
Materials used in piece
Brief artist bio
Photograph of work (to help us ID the work with the form entry)
Terms and Conditions
By submitting artwork you are acknowledging that you are the artist and that you hold the copyright to the piece. Copyright and ownership of the piece will remain with you but the University Libraries does reserve the right to use it in promotions and other publications.
No work accepted for the exhibition may be withdrawn before the closing date. We reserve the right to refuse any entry, if, upon arrival, the work is found unacceptable. All work must be original. Use of AI or other duplication of work will lead to disqualification. All artwork will be photographed and images stored in University Libraries' digital collections.
By entering this contest, you agree to the above terms and conditions.