Returning / Book Drops
About this service
Book Drops
Remote book drops are metal boxes located around campus where you can return most (but not all**) library materials (see map below). Book drops are located by the Belk Library front doors, inside the Broyhill Music Library, on Bodenheimer Drive near the SRC, in the Stadium Parking Lot near Newland Hall, on Rivers Street on the ATM parking area, on Locust Street near East Hall, on Highway 321 at Appalachian Panhellenic Hall, and at Leon Levine Hall.
Please note that you are responsible for these library materials until they are checked in. When we check them in, the materials are cleared from your library account.
Book drops are checked Monday, Wednesday, and Friday mornings. Returned items will be backdated to the previous pickup date. For example, a book placed in a remote book drop on a Tuesday is picked up on Wednesday and will be backdated to Monday. Book drops are not checked on holidays or days the library is closed. Refer to our calendar for library hours.
**Note: DO NOT put items checked out at the Tech Desk in a book drop. These items must be returned to the Tech Desk. You are responsible for the value of these items until they are returned.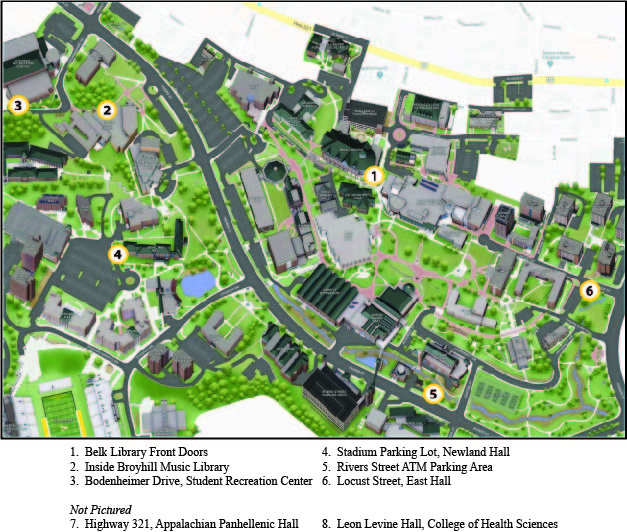 Return by mail
If you would like to mail library books back please use the address below:
ASU Belk Library
Attn: Book Returns
218 College St.
Boone, NC 28608
Exceptions:
Items checked out from the Technology Checkout Desk must be returned in-person.
Rental textbooks from the university bookstore cannot be returned to the library. Review the Bookstore website or call 8282-262-3070 x 19 for instructions on textbook returns.