Current Efforts & Initiatives
The University Libraries strives to continuously improve in the areas of inclusion, diversity, equity, and accessibility. Below are some of the areas where our efforts are currently focused.
IDEA Committee (Inclusion, Diversity, Equity, and Accessibility)
The University Libraries IDEA Committee (Inclusion, Diversity, Equity, and Accessibility) provides leadership in the Libraries on issues related to diversity and the provision of high-quality library services to individuals from diverse backgrounds. It offers staff development opportunities to increase their understanding of diversity and reaches out to the external community to promote the library and campus as a shared living and learning environment conducive to respect, acceptance, mutual understanding, and global awareness.
2021-22 Roster
Breanne Crumpton, Co-Chair
Hannah Pope, Co-Chair
Angela Howell
Thomas Main
Kelly McCallister
Mollie Peuler
Scott Rice
Dusty Ross
Kimberly Sims
David Travis
Recent IDEA Committee Initiatives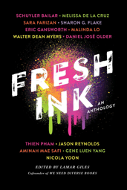 Book Club
The IDEA Committee is hosting a book club. We are going to read Fresh Ink which is a YA anthology of 12 short stories highlighting historically underrepresented voices.
In addition to providing books, we will provide food. We will have 2 meetings (March 1st and April 12th). We are going to talk about the first 6 short stories in February and the latter 6 in April. You are welcome to read the entire book, but even if you are only able to read 1 story, we would love to have you join in on the low stakes (yet very important) conversations.
Creative Justice Institute Partnership
In Spring 2021, members of the IDEA Committee partnered with the Creative Justice Institute on campus. This collaboration included having librarians talk about their favorite books for an episode of the Creative Justice: The Podcast, "For the Love of Books!"
We also co-wrote an internal library grant to fund zine kits for students. The zines from this project are stored in our Special Collections Research Center and Cara Hagan, the Creative Justice Institute coordinator, recorded an interview with one of the student artists.
Strategic Plan
We are currently working on our strategic plan with a part dedicated to IDEA initiatives. Please check back in later once the plan is finalized.
Hiring Statistics
As of 2021, 12.5% of Library Faculty identified as Black, Foreign National, or being of two or more races, and 7.5% of Library Staff identified as Black, Asian, or didn't include data. In comparison, 18.3% of students enrolled in Fall 2021 were from underrepresented communities. We continue to examine our policies and practices as they relate to recruiting and retaining diverse faculty and staff.
D&I Plan
In 2018, the University Libraries' IDEA Committee (then called the Diversity & Inclusion Committee) completed a D&I Plan for the library. The version below is currently under review.
Download the University Libraries Diversity & Inclusion Plan (PDF)