Scholarship of Diverse Faculty Showcase
About
The University Libraries would like to highlight and promote the research projects, scholarly work, and/or creative activities of diverse faculty on our campus. Studies in citational politics show that scholars from historically underrepresented communities often face more barriers in publishing, as well as, tenure and promotion. In celebrating the scholarship of App State faculty, we want to provide this opportunity to specifically highlight our faculty from these underrepresented communities and this is an opportunity to showcase the important work you do.

"Citational politics are the rules, practices, beliefs, and principles by which we determine how we publicly map the genealogy of our thoughts and inspiration…[that] determine how our disciplines both value our work and evaluate us as scholars." (Smith & Garrett-Scott, 2020, pg. 20)

In acknowledging that the current systems of academia favor certain identities over others, we want to help raise up and acknowledge scholars from groups who are often uncited, erased, and ignored within their disciplines. This is not to say that those within traditional identity groups do not provide valuable contributions to their fields, but to address that the systems of scholarship often operate in their favor over others.

This showcase will feature an online website to display research profiles. You will also have the opportunity to have information about your research displayed in the Belk Library & Information Commons on a rotating basis. As an example, here is a past display from the Swem Library at William & Mary, Scholarship on Display: Linguistics, that is acting as a model for this project: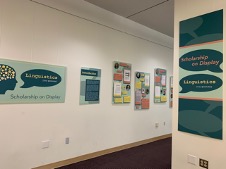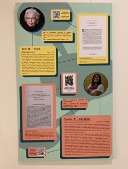 Participate
Participation in this showcase is on an opt-in basis. Diverse is defined here as having at least one facet of your identity that intersects with historically underrepresented racial, ethnic, socioeconomic, gender, sexual orientation, etc. within your discipline. For example, women are historically underrepresented within STEM fields. Black women are underrepresented within the field of anthropology, etc. This form will ask you to self-identify how you want to be represented.

If you would like to participate in our scholarship of diverse faculty showcase, please fill out the following:
You can expect to receive a follow-up email within one to two weeks if not sooner.
Contact
This project is being led by Breanne Crumpton, Information Literacy Librarian for Humanities, crumptonbe@appstate.edu. Please direct any questions you have to Breanne.